Beta Release: Full-page Profiles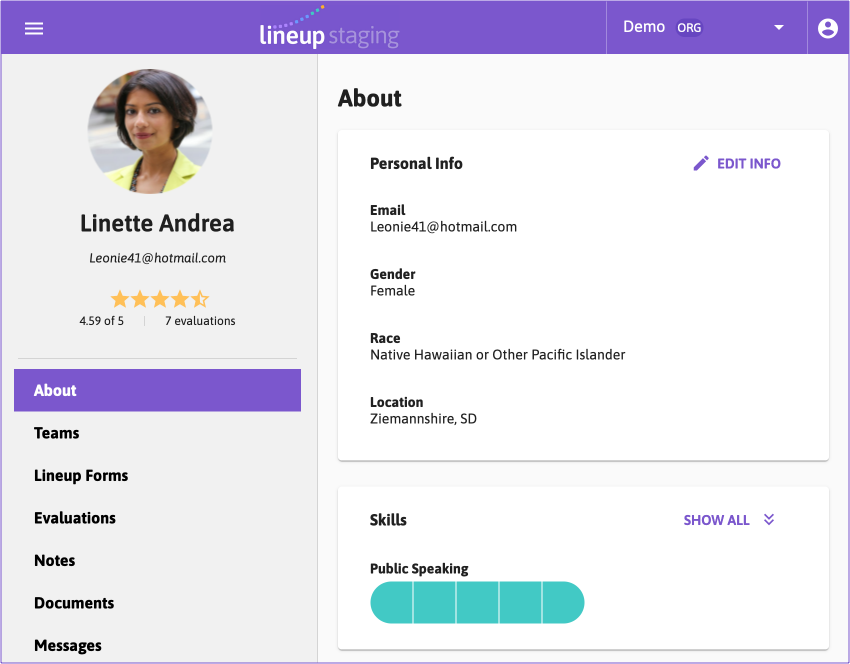 Lineup profiles have grown more powerful over the last several years, able to capture and track a range of information—from skills to certification data to email messages. Frankly, all that information has started to outgrow its existing space in the right-hand sidebar, with even more exciting features coming down the road.

To future proof us, we've designed a brand new space for all of this information to move into—the full-page profile. As the name suggests, these profiles will utilize the full width of your screen for each person.
The profile page will not only have all of the same functionality that the existing profile sidebar does, but we've added a few new cool things in this initial, beta launch:
Manage team tracked fields right from the profile (found under teams), as well as view evaluation information for that team.

View Lineup Forms that have not been completed by the person.

View all documents associated with that profile (including documents uploaded to a Document Upload custom field).

View all the messages without having go to the Message Center.
This feature is still in beta, but we didn't want to hold back the awesome power that it offers. You can look at any person's full-page profile by clicking on the dots next to their name and selecting "View full profile" at the bottom of the menu.
Other Updates & Bug Fixes
We've updated the login page to bring it inline with more modern processes. Don't worry, your passwords are the same, the page just looks better!
If you don't have Workspaces as part of your plan, you won't see a dropdown for them.
Team names need to be unique across your Workspaces.
Added type-ahead searching for certification names.
Added the ability to copy a team invitation link (if you need to send the link outside of Lineup).
Updated our automated tests.
Other back-end updates and routine maintenance.