New: Add your own custom fields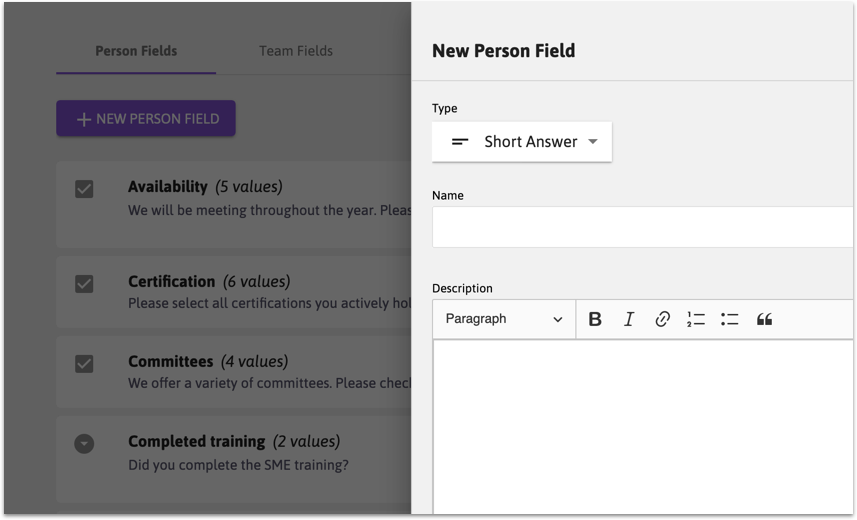 You no longer need to ask for someone at Lineup to setup your new fields. If you're an admin or an owner of your Lineup account, you now have the power to create them yourself!
New: "Potential" Status for People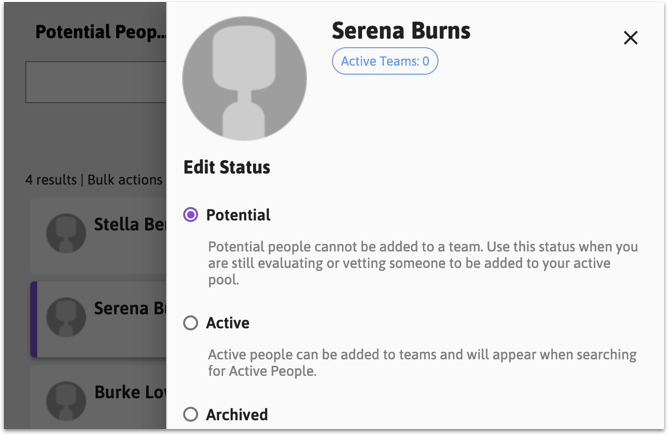 We have introduced a new status, alongside "Active" and "Archived," when it comes to managing the people in your talent pool. We recognize that some organizations would like to vet their subject matter experts or volunteers before they begin adding them to teams. At Lineup, we observed and want to support that behavior more.
Now, if you're still in that early stage of vetting someone new, you can toggle them to be "Potential." They will not show up in your searches and cannot be added to teams, but you'll be able to view them, send them applications, edit their information, and determine whether they would make a good fit into your active pool.
Read our article about the potential status.
Updates/Bug Fixes
We've added the name and date of the last completed application to all CSV exports
Inviting new admins should now be a smoother process
Added a tooltip to the Location filters
Team and Tracked fields no longer have fields displaying how they appear on applications, since these fields will never appear on applications
Before you delete a Certmetrics ID (if you're using our Certmetrics integration), we'll now ask if you're sure
BCC address now appears when viewing emails in the Message Center
Removed "eligibility" fields. If you were planning on use this, you can now set them up as Custom Fields
Improved performance of Team Experience and Gender queries
Improved Team Query Performance
Fixed an issue that was sluggish when opening a person's details sidebar
Users can now include archived teams in team history filter
Removing tagbox values successfully upon save and fix required display
Updated placeholder text for dropdown and tagbox
The person picture will no longer get out of sync with the Team Experience data
When creating new teams, the window will always open on the new team's roster page
Pages will properly scroll on mobile devices
Deleting teams will no longer occasionally produce an error
Other back office upgrades and enhancements