New Feature: Team Survey Reports

You have been able to send out surveys and collect feedback for the last year. You've been able to see those results on a team-by-team basis. Now, it's time to zoom out and see your data across all the teams. We bring you: team survey reports!
Just like Team Rosters, as well as the team and people searches, you can filter across a range of dimensions. For example, want to see all the team surveys you've received in the last month? How about segmenting your responses by a team field, such as fiscal year or domain type? Lineup gives you those tools, and more.
Learn more about Team Survey Reports here!
New Feature: Schedule Team Invitation Reminders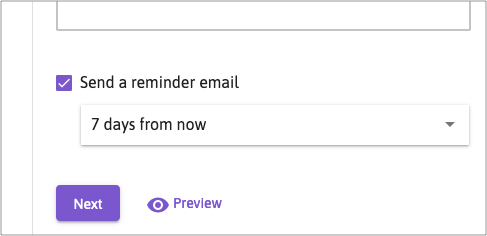 Last week, we brought you the ability to send a reminder to those who haven't yet accepted an invitation. Now, you can schedule those reminders when you send out the initial invite.
Other updates & bug fixes
We added a Lineup Forms landing page, which will show you a list of all your Lineup Forms and the response rate. We'll make a bigger deal about this feature once you can actually get more information about your forms, don't worry!
Quick Filter will no longer break if you have no tags (although use tags, they're great!)
Success and Error popups are now readable on all pages.
Exports without any results are no longer possible. If you want a blank CSV, open up Excel. :)
Remove the "Create new custom field" from the menus in Team Survey Templates and Manage Columns.
New updates to filters:

New person filter: Created Date, which gives you access to filer on when a person's profile was created
New team roster filter: Position Update Date, which lets you filter on the last time anything changed about that person's experience on the team (e.g. a tracked field, a status, etc.)

For the devs and those working on integrations:

Curious about the query string we use for our filters? You can now copy them from any filter menu by clicking on the code icon in the bottom-right.
Test this query string in our Query Tester, under /reports/query-tester