New custom fields: stars and dates!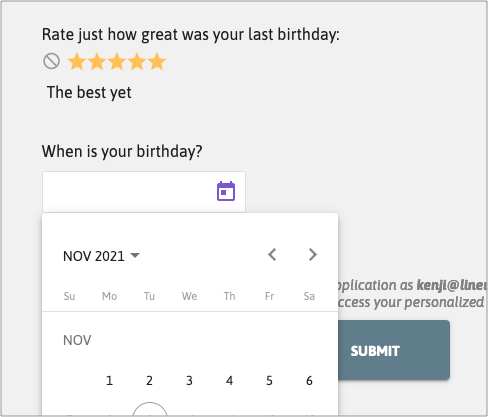 To give you even more flexibility as you collect data and track people, we've introduced not one, but two (2!) new field types.
Date fields let you capture, well, the date. In the past, you could do this with a short answer field but if you use a date specific field, Lineup can do fancy things with filters... like show everyone who's birthday is in the next week!
Star rating fields allow you to create a custom field or question in the form of a one-to-five star rating. Just like skills, you can describe what each rank means to make sure you get the most consistent outcome.
Other Updates & Bug Fixes
In the Lineup Form Reports, you can now see the email address of people who requested a Lineup Form, but never actually completed it.
The "is not any of" filter operator now properly shows everyone without the following value.
Scheduled reminders now show up in their own tab in the Message Center.
You can now send a scheduled reminder immediately, simply by clicking "Send now."
Clarified the back buttons/links for Lineup Form and Survey reports and admin details. It looks like this now:

Modeling and API work around our upcoming Evaluations redesign.