Team Management Enhancements
We've made a few updates to how you can manage your teams to improve the user experience.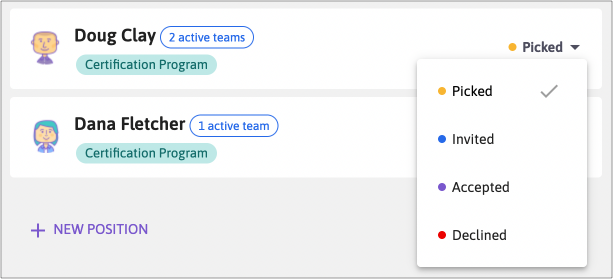 We've made the team statuses on the cards clickable! You can now change a person's team status (picked, invited, accepted, or declined) directly from the card. You no longer have to click on a person, have their details load on the right, locate the status, and switch.
Updates & Bug Fixes
Questions marked as required on Lineup Form fields will now always be required.
Fixed that bug where sometimes, some buttons were disabled.
Deleted reports will no longer show up in the Lineup Form reports.
Support alternative top-level domains (so now, in addition to .com, .org, etc, we support the newer domain extensions like .pharmacy and .games).
Cleaned up old evaluation code. You won't notice anything different, but our devs do!