Evaluation data at a glance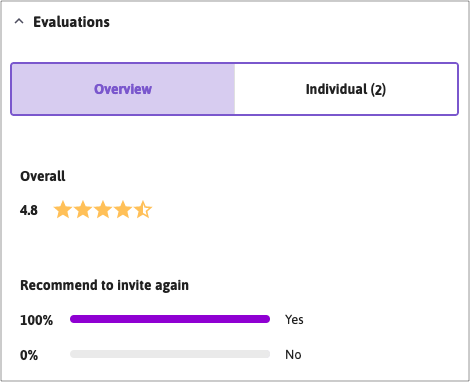 You've been evaluating your team members and collecting great insights to help you build even better teams in the future. We've now made it easier than ever to dive into that evaluation data.
Now, when you click on a person's profile and look at their evaluations, you'll see an overview of all of that great evaluation data across all evaluations. You can still dive into each individual evaluation, but if you're looking for high level insights, it's all right there.
Seeing this data, however, is only half of what we've done for you.
Filters for those evaluations


A new type of filter is now available: Evaluation Questions. With this filter, you'll be able to find people with desirable evaluation results (or exclude those who didn't perform so well).
Updates & Bug Fixes
In admin, when managing custom fields, we've switched the view to a table, rather than cards, to make it easier to browse.
Added a missing filter for Star Rating custom fields.
We've vastly the code coverage of our automatic tests. Goodbye, bugs!