Lineup makes it possible to manage your custom fields. The following things are possible:
Edit the name of the field
Edit how the field appears on applications/surveys
If the field has a list (drop downs, check boxes, and multi-select), you can edit the values in the list
Highlight the field on a person's profile
Make the field filterable
Show the field on your homepage in a chart
To get started, go to Admin -> Custom Fields and click on any of those fields you see.
Editing the name and application question

The first field controls how it appears in the system (so when you are applying filters or looking at the details of a person within Lineup). Think of it as a label. It should be short but something you and other users of Lineup understand.
The second field controls how these custom fields appear on all applications. It can hold basic formatting, such as lists, bolding and italicizing. Please note that this field is universal, so if you make a change to how the question appears here, it will change it on all applications that you have.
To edit either, click the line you want to edit (or click the pencil to the right). To save changes, press "Save" in the upper-right of the field.
Editing values for list items
Custom fields with associated lists (like drop down fields) also have a list of values. You can edit these as well.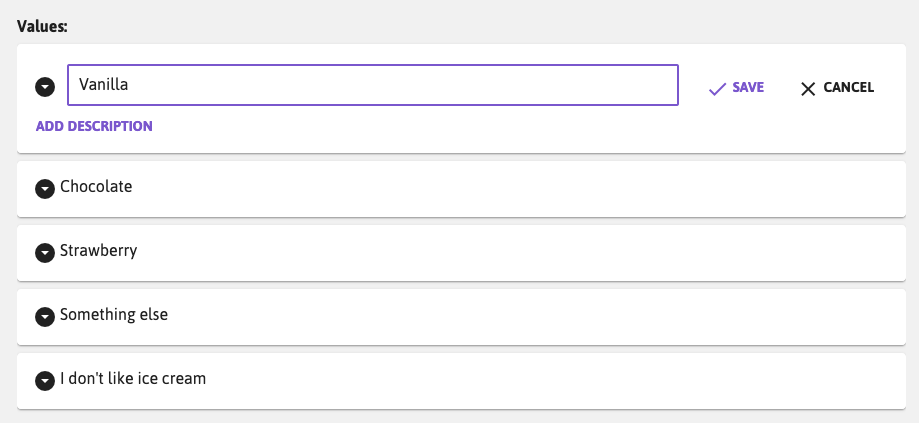 Clicking on the value itself will allow you to edit it.
You can add a description to the value if you would like to give some context, or additional details. If you don't like the description, you can always remove it: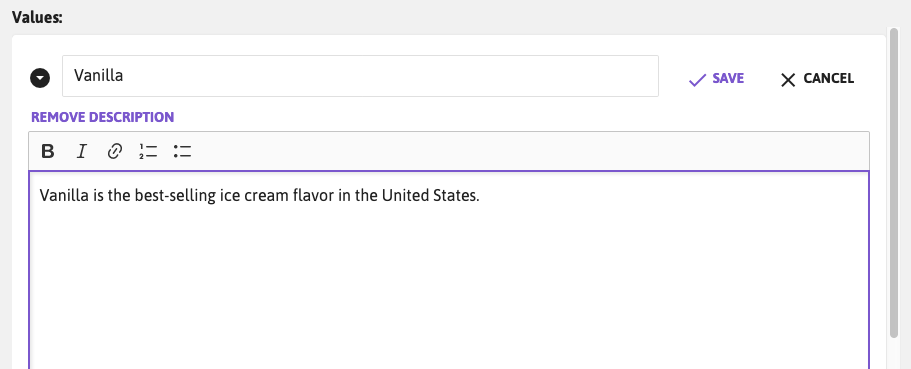 Changing the name or the description of these values will change them on all applications.
Toggling custom field behavior
Finally, there are three toggles at the bottom of all custom fields that have lists.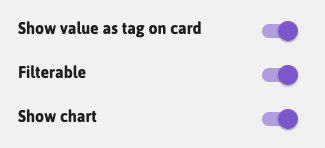 Show value as tag on card
This will turn on or off the turquoise tags that you see when you're searching for someone. Like this: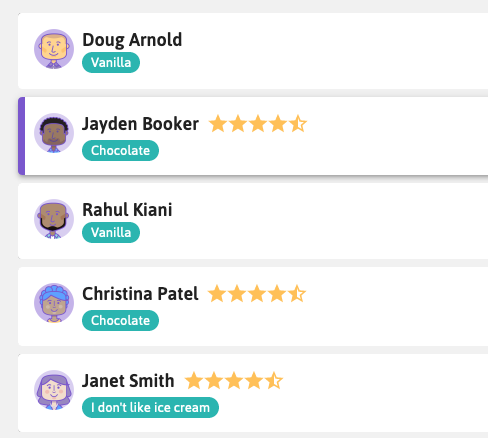 Filterable
This toggle will show or hide the filters for all searches. For example:

Show chart
Finally, this toggle will let you determine whether you'd like to see a chart for the answers you get for this field. This will effect both the Dashboard and the individual team charts.
This is the chart I'm talking about: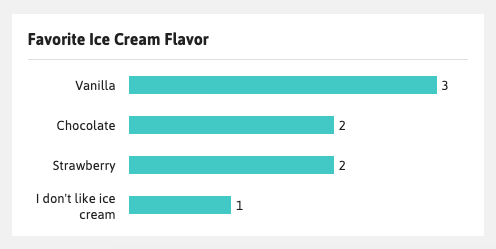 Note that all of these toggles are universal for everyone with access to this account.