Once you've created a Lineup Form, there are a couple ways to send them out. You can directly send the forms to people already in Lineup, or share via a link to the form. This article covers how to do each of these things.
Also, these two options are not mutually exclusive. Use both to maximize recruitment!
Jump to:
Directly send Lineup Form
Use this option if you would like to reach out to people who are already in your Lineup platform. It's a great way to get your volunteers and SMEs to update their information, or to push out a new call for volunteers.
Navigate to the People tab


Use the searching and filtering options until you've got the list of results that you'd like to send the form to. You'll be sending your Lineup Form to everyone on this list.

Please note: at this time, we limit the number of Lineup Forms that you can send out at one time to 1000. We will be increasing this number in the near term.
Once you have the results that you're happy with, select the "Bulk Actions" menu, which appears just beside the results count.


Select "Send Lineup Form to all results" from the menu.
Select the Lineup Form that you would like to send out.
Click send!
Share a link to the Lineup Form
You can share your application publicly to increase recruitment. Click on Admin, and then click on Lineup Forms.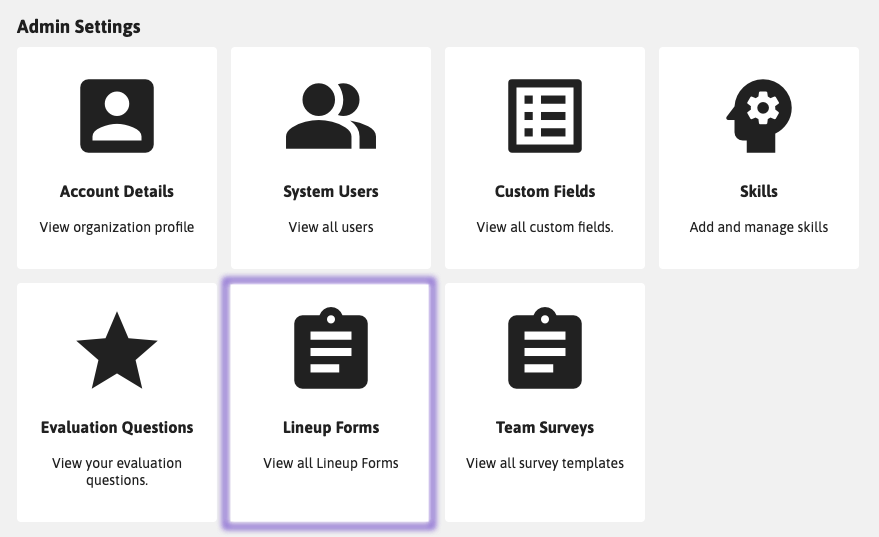 Choose the Lineup Form that you'd like to share.

Then click on the sharing tab.
From there, you can copy the link to your Lineup Form and put on your website or distribute it via email.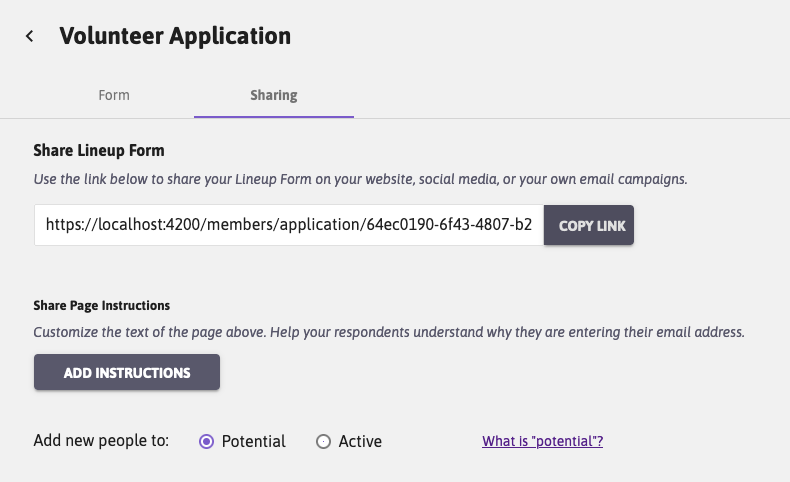 Customizing the Share Text instructions
By default, the instructions text on the Share Page is pretty generic:
"To complete the form, please enter your email address below and we'll send you a direct link."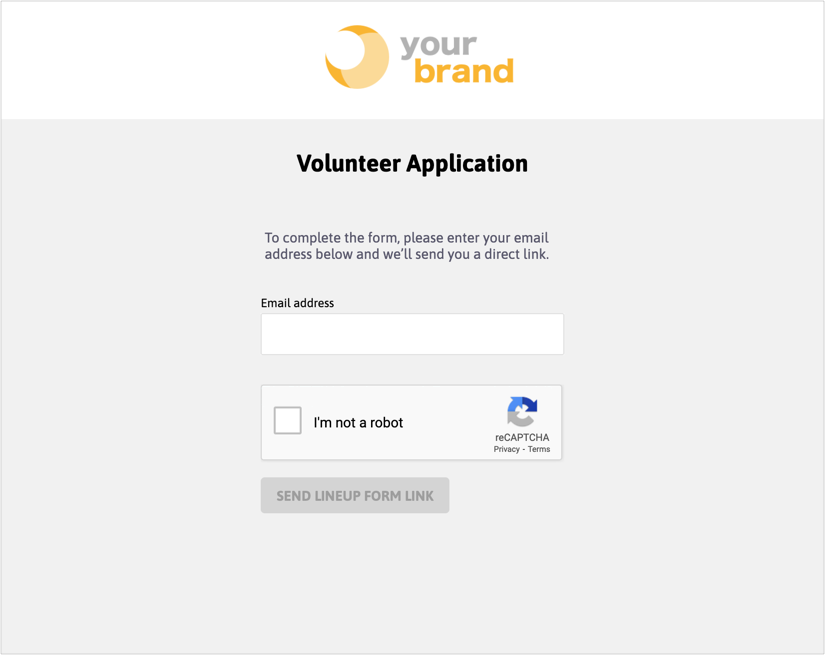 If you'd like to customize the instructions (the stuff between the name of your Lineup Form and the email address input field), you can do this from the sharing tab of your Lineup Form.
Click on the "Add Instructions" under the Share Page Instructions section. Add your instructions here. We support rich text formatting, just like other parts of your Lineup Form.

You can always preview what your new Share Page looks like by copying the link to the page and opening it in a new tab.
For example: