The very first thing you'll want to do is set up your basic account settings. This includes things like your organization's name, logo, and primary contact for your account.
Access the Account Settings by going to Admin > Account Settings.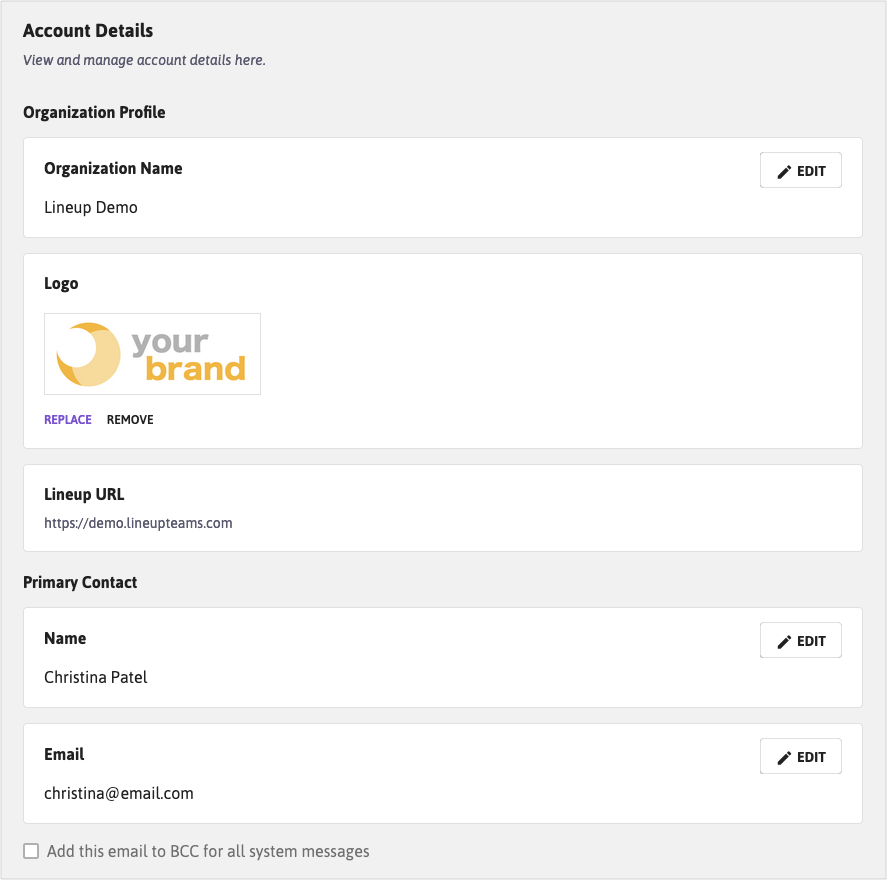 Here's what all of this means:
Organization name
The name of your organization. This will appear at your login screen and be referenced in the generic text of some of your emails. Additionally, it will be used at the alt text for your logo.
Logo
Your logo will be used in email correspondence to your end-users. It will also be displayed at the top of all external facing pages (forms, team invitations, surveys, etc.).
You can upload any size you'd like, but please be aware that we will size it down to the following specs. For optimization, we recommend going no larger that 1000px wide and 500px in height.
Maximum height: 160px
Maximum width: 700px
Format: .jpg, .gif, .svg, .png
Lineup URL
This is the web address that you will use to access your Lineup account. You can't change it. It's just there for reference.
Primary Contact
The primary contact is the default name and email address for outgoing emails. Most of these emails can be overridden, with the notable exception of team invitation emails (and their corresponding confirmation emails) and emails related to evaluations.
The primary contact email address can be a shared inbox.
Add this email to BCC for all system messages
If this box is checked, that the Primary Contact Email will receive a blind carbon copy of all messages that Lineup automatically sends out (eg. application confirmation emails, team acceptance emails, etc.).
If you would like to keep track what your end-users are doing, check this box. Be warned, this could be like drinking from a fire hose.