Lineup is all about managing and understanding people. Now that you've set up your custom fields, it's time to start adding people.
There are a few ways to do this, and we recommend some combination of these to do it.
1. Manually add them one-by-one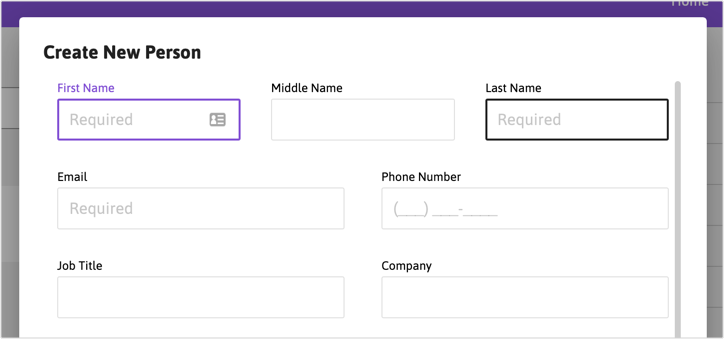 This is the most tedious way, and we don't recommend it if you're trying to add more than a few people at once, but it's available for one-off additions.
Go to People > + Add Person and select "Add a person". This will open a window asking you to enter information that you want to capture about this person. Once you add them, you can also add values to all the custom fields by clicking, "All Custom Fields" at the bottom of their profile details sidebar.
2. Add people in bulk
The recommended way to add a lot of people at once is to use our Import People tool.
Outside of Lineup, using a spreadsheet program like Microsoft Excel, Apple Numbers, or Google Sheets, you'll structure all of your data. Each column should match one of the custom fields that you've already set up, and each cell should match one of the values of the custom field.
Save the spreadsheet as a .csv
Upload the .csv to Lineup by going to People > + Add Person > Import in Bulk
Follow the instructions and import.
For more information on how to use the Import People tool, read this article.
3. Create a Lineup Form and have your people add themselves
Finally, you can create a Lineup Form, add all the custom fields that you've set up to the form, and send it to the people you'd like to start managing.
For more information on how to create a Lineup Form, check out this article.
Some tips:
We recommend a combination of the three to get you the information you need:

Add your people with the Import People Tool
Create a form
Send those people the form to have them update their information, or answer questions that you don't know

Don't feel like you need to add everything about the people in your first go. You can always augment and update them over time.
If you're trialing Lineup, start with a small subset of people to test Lineup with, sending them an form and getting their feedback.