Sometimes you don't want to formally invite someone to a team, but you do want them to appear to have "Accepted" the position. This is as easy as two clicks.
1. Click on the person you want to change to open the person's profile.
2. You'll see their status (eg. Picked, Invited, Accepted, Declined).
3. Click on that status and a dropdown menu will appear.
4. To change the status, just select the one you'd like to change it to.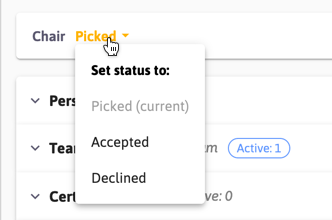 Changing a person's position status this way will never send that person an email.