People don't always respond to the first email that they receive. Sometimes, they need a second, little nudge. Lineup calls these nudges reminders.
Currently, we support one type of reminder:
Team Invitation Reminders
Scheduling a reminder
You can schedule a reminder invitation email when you send out the initial invitation. Initiate the invitation just as you would any other invitation (it can be an individual invitation or one done to the whole team).
At the bottom of the email contents, you'll see a new checkbox (that's unchecked by default): "Send a reminder email."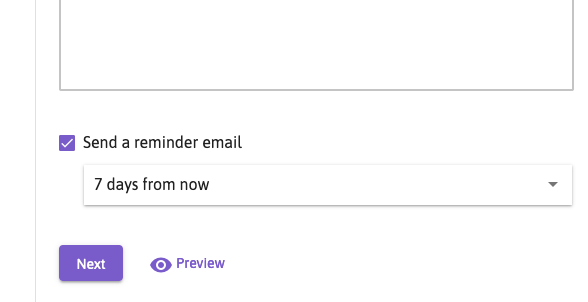 If you'd like to schedule a reminder, toggle that checkbox on. You'll now select how many days from now that you'd like to send the invitation out. The options are:
2 days
7 days
14 days
Custom amount of days (if one of those options is not to your liking)
Sending a reminder immediately
If you want to send out the reminder immediately, but did not schedule one, all you have to do is select the person and click the "Remind" button in their status box. You'll see an option here to "Send reminder now".

Don't worry, you have the option of updating the reminder text, in case you want to personalize your gentle prod.
Viewing scheduled reminders
You can view a scheduled invitation reminder, person-by-person, but clicking on them. You'll see the reminder below their team status.

You can delete this reminder by clicking on the trash can icon to the far left of the reminder box. You can also send it right now, if you just need them to respond right now!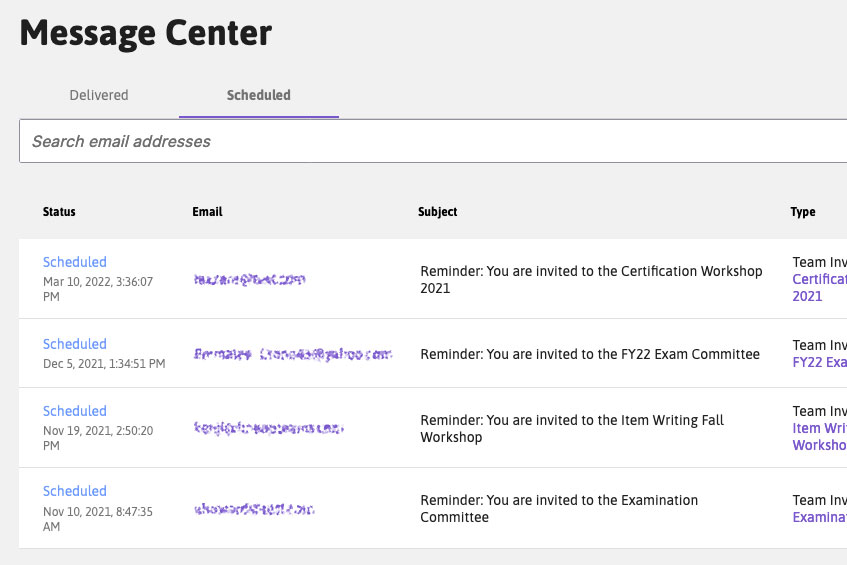 Alternatively, you can see all the scheduled reminders in the Message Center.
Go to Admin > Message Center, and select the "Scheduled" tab. You'll see all scheduled email reminders across all teams, with the option of deleting them if you'd like.