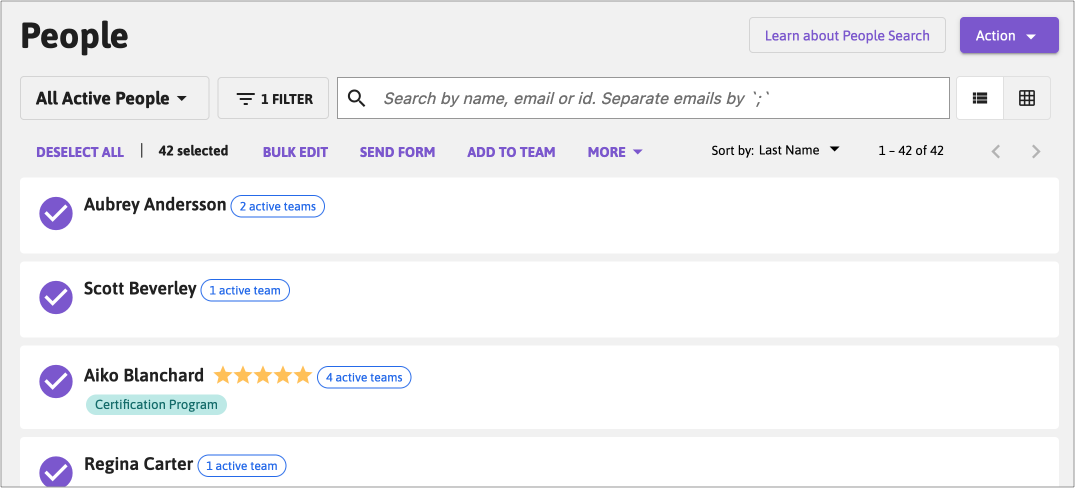 Managing people's profiles is straightforward in Lineup, whether that's individually, or all at once. This article covers specifically how to manage those people in bulk, including:
Bulk Editing people's custom fields, tags, and profile status
Sending a Lineup Form
Adding your selected people to a team
Emailing the people selected
How to select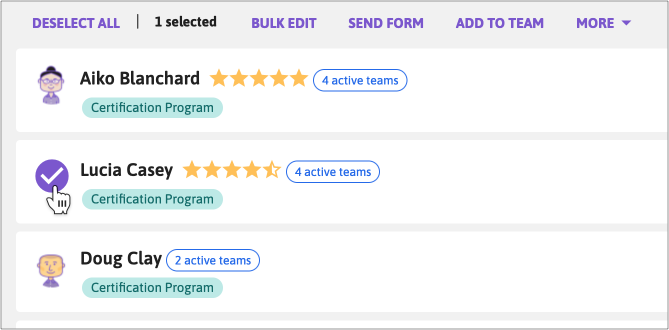 To select individual people, you simply need to click on their profile picture in the list. The small, round image will turn into a purple check mark.
If you're viewing the list of people in a table view, there will be a checkbox to the left of their name.
If you'd like to select all 50 people on a particular page, select the "Select All" button at the top of the list. This will only select the 50 people on that page, so be aware of that.

If there are 1000 or fewer people in your result set (meaning that after you apply all your filters and the number that comes after the "1-50 of" is 1000 or less), you'll have the option to select your entire result set.
A gray bar will appear saying, "All 50 people on the page are selected." A button will follow reading, "Select All XX people," with XX people the number of people in your results set. Again, this option will only be available if you have 1000 or fewer results.
To deselect any of the results that you've currently checked off, just click the "Deselect All" button.
Available Bulk Actions
Lineup currently supports four different bulk actions, as described below.
Bulk Edit
Bulk Editing allows a system user to update a bunch of people all at the same time. Once you complete the Bulk Edit action, you will update everyone in the result set with the same value. For example, if you assign a tag, "Great Person" using Bulk Edit, everyone you checked will receive the tag "Great Person."
You can update the following data fields with Bulk Edit:
Person Status (eg. Potential, Active, Archived)
Tags (the gray things you see on a person card)
Person fields, including:

Short Answer
Dropdown
Checkbox
Multi-select
Additionally, you can remove values from your selected result set with Bulk Edit.
Send Form
The Send Form action allows you to send a Lineup Form to the result set. Read our article to learn more about sending forms.
Add to Team
The Add to Team action lets you add everyone in your result set to a team. The team must already be created and it must be active. Additionally, only people with active profiles will be added to the team. Read our article to learn more about adding people to a team.
Send Email
The Send Email action lets you send an email to everyone in the result set.