If you need to add a lot of people all at once, you don't have to do this one-by-one. You can use our bulk import features. This article will walk you through how to use that.
Preparing your data
Your data must be formatted correctly first. Begin by downloading our CSV Template.
Currently, the bulk import process only allows you to update/add built-in Lineup fields:
First name (required)
Last name (required)
Email (required)
Phone Number
Job Title
Company
City
State
LinkedIn Address
Gender
Tags (more on this below)
Pro-tips:
Make sure that you give everyone a first name, last name, and email address. Those three things are required.
Make sure you don't change the order of the columns
Tags: Miscellaneous information that you want to capture about your talent can be added to the "Tags" column. Just make sure to separate each tag with a comma. Later on, you can filter your list of people with these tags.
Uploading your data
Go to People -> Add Person button -> Import in bulk

Uploading the template
Here, click the "Upload CSV" button and select your saved and prepared CSV.

Review your list
Review your data by clicking the next button.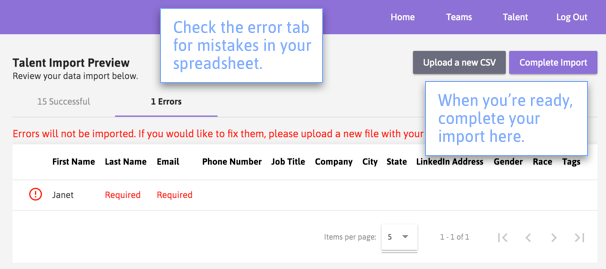 If something went wrong and some of your fields are not filled in correctly, we'll let you know. You can always back out, correct the changes on the CSV template, and click "Upload a new CSV."
We will not upload your new talent until you tell us that it's okay and click "Complete Import."
Success!
And you're done! All your new people, including all the information that you wanted to import, will now be available to you in the Person Search, and ready to go into your teams!