Respondents do not have to complete a long Lineup Form at once. If they run out of time completing a form, they can now click the "Save for later" button in the top-right of the page.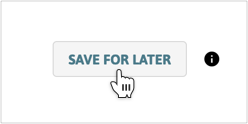 A few important things about these saves:
The respondents much use the same browser and device that they started the form on
They can't be in Incognito or Private browsing mode
We'll save the responses for 15 days, so they'll have to return before then
Can you see the partial responses?
Unfortunately not. We save the partial responses in the respondent's browser (hence the bullet points above). In order for you to see their responses, the person will need to submit the form. This serves as consent from the respondent to have their answers recorded.